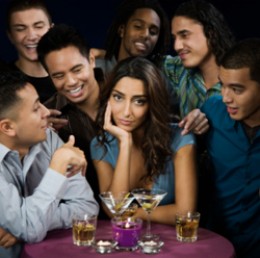 Falling deeply in love has never had anything to do with a year or era.
Choosing the "right mate" makes all the difference in the world!
Each of us gets to (choose) our own friends, lovers, and spouse.
We get to decide who we will engage with and exchange contact information with as well as spend our time with.
If someone is having one bad relationship after another it's probably time they reexamined their "mate selection criteria". The only thing all of your bad relationships have in common is (you).
Hopefully with age comes wisdom and we learn how to choose people who share our same values, want the same things we do in a relationship, naturally agree with us on how to obtain those things, and last but not least have a mutual depth of love and desire for one another. Know yourself, love yourself, trust yourself.
Immaturity and having unrealistic expectations can often lead to heartache especially during our teens and 20s.
For example any young woman in her 20s who thinks guys in that age range are looking forward to marriage, signing a 30 year mortgage, and having children is (usually) setting herself up for a broken heart.
Most guys in that age range are looking to establish a career, party with friends, play video games, watch sports,and get laid.
Many of them don't really start to consider settling down until they are in their late 20s or even mid 30s.
They haven't figured out who they are!
Ultimately one has to know what they want before they seek to pursue a relationship. To do otherwise is the equivalent of going shopping without a list!
You're liable to throw anything into your cart at the last minute.