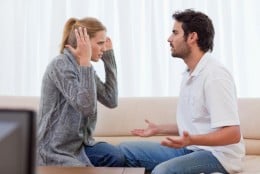 AVOID this liability like leprosy & other plagues. This person is a relationship liability. See him/her & RUN, NOT WALK! When one enters into a committed relationship &/or marriage, the intended comes first & TAKES PRECEDENCE over the family of origin. Anyone who puts his/her family of origin before the intended or spouse has something seriously wrong w/him or her.

This person will cause the spouse & eventually children to hate him/her because the latter feel that they aren't as important as the family of origin. The person's family of origin should be put last in the relationship. It is the spouse's & children's needs & priorities that are important, not the family of origin. Express, it is even more perplexing that there are people who put their siblings' needs over that of the spouses & children which is aberrant. No sibling/siblings are more important than the spouse & child/children. Once one is grown &/or married, it is time to distance oneself from one's family of origin & establish ONE'S life. This applies MORE SO when one enters into a relationship &/or marriage, h/she should distance himself/herself from THAT FAMILY OF ORIGIN & put the spouse & child/children first.
People who are very close to their family of origin SHOULD NEVER marry & have children in the first place. They should remain single for they are already married..........to THEIR FAMILY OF ORIGIN.

This behavior usually occurs in families w/siblings where there is an abnormality in family relationships. That is why it is smart to avoid dating & marrying anyone who has siblings because when a person enters into such a relationship, there is always someone expecting something financially. In essence, there are always hands out, always asking for something or to bail them out.

If a person is TOO CLOSE to & EXTREMELY LOVES his/her family of origin-WATCH OUT. This is a signal that the family will always come first when h/she & even the child/children will always come.....LAST. DON'T ever date, marry &/or have anything to do w/this person as this person isn't dating, marriage, nor parent material. H/she is abnormal & in need of psychiatric care. If h/she is married & a parent, his/her spouse & child/ children will learn to hate him/her, even divorcing or disassociating w/such a relationship & parent liability. This person has no loyalty towards his/her new family but the OLD ONE....