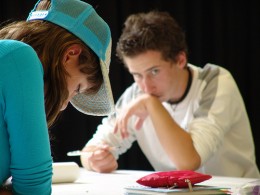 The shortest distance between two points is a straight line.
Since you're still in school I guess it's appropriate to ask her to "hang out". Traditionally teens went out to the malt shop, a matinee movie, school function, or walked home together.
Your choice is to either engage and risk rejection or to sit on the side and wonder what might have been.
The most common regret older people have is the risks they didn't take. If you get shot down then move on to the next one.
Rejection doesn't kill you it keeps you from wasting your time.
Best wishes!