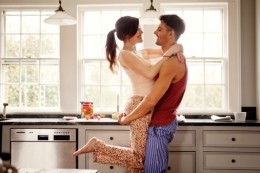 Yes, only the couple can determine what is "normal".
Ideally one should choose a mate who has a (similar libido).
Natural compatibility trumps compromise!
Oftentimes there is a situation where both people were extremely passionate and romantic during the "infatuation phase" of their relationship and only after there was a commitment they fell into their "normal" sexual cycle of having less desire.
However it may turn out their mate naturally has a higher libido and suddenly she/he feels like a victim of "bait & switch".
Life circumstances can also effect individual "priorities" differently.
Someone might view parenthood as being more important than being a spouse or feels they can put sex and romance on the "back burner" and pick it back up whenever they can squeeze it in if at all.
It's not unheard of for some "empty nesters" to end up in divorce court once the children are grown and gone. They've become roommates.
Sexual desire, affection, flirting, and romantic thoughts about our mate are the only things that separate "relationship love" from " platonic, sibling, and parental love"
People say marriage requires work. A part of that work is finding ways to "keep the magic alive". However (both people) have to make it priority! It's easier to maintain a fire than it is to reignite a spark!
"Monogamy becomes boring when couples become lazy".