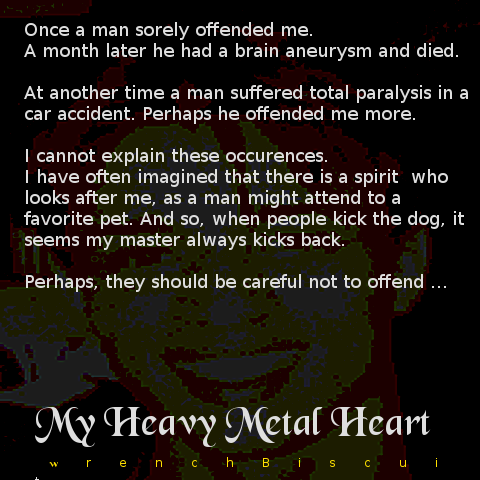 Disco Sex and Good Vibrations

Once again someone has taken my words and created their own narrative. Like most Americans, it appears that you are accustomed to being around so-called "modest" people. But I understand that modesty is most often false modesty. The sheer number of "selfies" that we see in many Facebook posts, and on other social media sites, is a testament to the passive narcissism that we see all around us. And I say it is passive because they do not come out and express their love for themselves in their commentary. But such love is evidenced in their incessant posting of images.

Currently, I have only three images of myself posted online. I understand that the intellect is the sexiest thing about the human. A man or a woman may be physically attractive, yet dumb as an ox. There is nothing sexy about an ox! This is why I do not have sex with women who possess a low IQ. Such behavior is improper and disgusting, and it is only one short step away from bestiality. Of course, I do not have an "IQ meter", but there is a way to judge the intelligence of a woman through observation; not only by listening to what she says, but by listening also for what she "does not" say. This is very easy to do. And so I reveal, yet another great teaching:

When I was younger and living in New York, I went to a local disco with the intention of seducing a female. But I digress: (Of course I went alone, and the younger men reading this should take note that it is always best to fly solo when looking for females. Often young male lions will travel in pairs to hunt for females, but we are not wild beasts, and the human female is not comfortable with men who run in packs. It is always best to approach them alone.)

The disco-tech was located in a very large building, and consisted of 2 levels. The dance floor was huge, and the upper level was open in the middle, and outlined the perimeter of the dance floor. As was often the case, when I entered the vast meat market; bass frequencies throbbing to the sounds of Prince and Michael Jackson, I was inebriated with the smell of sex, alcohol, and the faint,sweet odor of cannabis. These were glorious days I will never forget.

While standing at the bar nursing a rum and coke, I became engaged in conversation with a very sexy female. I immediately sized her up as a materialistic moron, but I wanted to be sure, since she was so physically attractive. At the time, I was operating a recording studio with a friend of mine, while also working as a professional musician. I knew that if I told her the truth about my occupation, she would most likely be impressed, as women often were. But I made a bet with myself. I bet that if I told her I worked at a menial occupation, she would soon disappear. Of course, I won the bet! I told her I was a janitor at a local hospital, and although I had done such work in the past to make ends meet, it was not my primary means of employment. Shortly after I told her I was a janitor, I looked around and she was nowhere to be found! She had completely disappeared into a sweaty, pulsating sea of humanity.

I do not have time for such ignorant materialistic females; not when there are intelligent and sexy females available. Of course, the ignorant females are always in the majority, and so the sexy man must look a little harder to find a woman who is worthy of his attention. Also we must not forget that intelligence is not only measured by scholastic achievement, or how well someone can add, subtract, and multiply, but also by an individuals ability to separate the important things in life from the superficial,and the trivial pursuits.

Concerning your fiction about "barter": It is you who have created the fiction that I have bartered for sex. I did not indicate such a thing. And besides, women have begged me to have sexual relations with them in the past, and as I have also explained, some have even forced themselves upon me! But I do not consider their actions to be a matter of sexual assault. Who can really blame them for wanting a real man; the kind of man that is as rare as a Tazmanian Peacock?

No I do not have to barter for the kind affections of the female. I am trimming her palmetto as she is a mature woman, and so she is not physically able to perform such a demanding task. She is a beautiful woman, with a very hot temper, as she is a redhead. When she was younger she was offered the chance to pose for a Playboy centerfold, but her father found out and would not allow it. Sex notwithstanding, I am a kind person, and I am also a man of God. It is my duty to help her, whatever her needs may be. You have attempted to sully my good works with a terrible fiction. But because I care for you, I am not offended, and so, I will only send good vibrations.