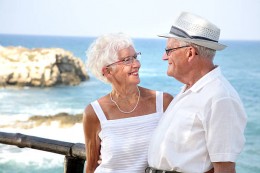 When it comes to love and relationships most of us (fail our way) to success. More often than not we start pursuing relationships before we have figured out who (we) are let alone know what it is we want and need in a mate for life.
We allow "impulsive connections" and "happenstance" to dictate our relationship choices.
It's the equivalent of going shopping without a list!
Immaturity can also lead to getting a broken heart.
The reality is most people don't meet their "soul mate" or the person they end up marrying at age 16 or 17 and yet in the U.S. the average person has been reported to lose their virginity by age 17. The average first time bride is 27 and it's age 29 for grooms. Clearly this would suggest there is on average 10+ years of dating and sexual experiences accumulated over those years and it's usually not all with one person. Almost everyone experiences breakups and heartaches.
It's not uncommon these days for people to wait until age 30 and beyond to marry. Becoming emotionally invested in someone as a teenager or during your early 20s usually leads to heartbreak. You'd be better off just dating for (fun).
Rarely does someone hit a homerun their first, second, third, or fourth time up at bat. If this were not the case we would all be married to our high school sweethearts!
Ideally with each failed relationship we learn to date smarter, gain life experience, and wisdom as we determine what it is we really need in a mate. Granted what makes for an "ideal mate" at age 17 may not be what someone would want at age 27. We're always evolving.
Each of us (chooses) our own friends, lovers, and spouse.
Each of us has our mate selection process/"must haves list".
Each of us has our "boundaries" and "deal breakers".
If someone is experiencing one bad relationship after another it's probably time for them to reexamine their mate selection criteria. The only thing all of your relationships have in common is (you). Smart people learn from their mistakes.