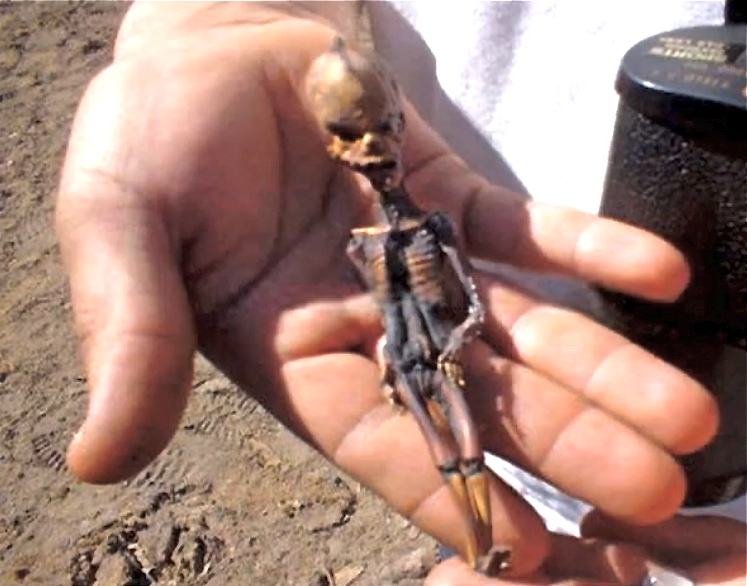 The current owner of the Atacama Humanoid is Barcelona entrepreneur Ramon Navia-Osorio, who heads up a UFO organization, the Institute for Exobiological Investigation and Study (IIEE). Navia-Osorio recently wrote a lengthy report, "The Anthropomorphic Being From Atacama," that was posted by Julio Gonzalez in the Argentina news website, Realidad OVNI (UFO Reality).

Navia-Osorio's account includes steps he took to have the creature analyzed and how he got differing opinions about its identity. One study conducted by three doctors concluded that, whatever the creature turns out to be, they didn't think it was a hoax.

A second document, from a forensic medical expert at Basque Country University, concluded: "It's a mummified body with all typical characteristics of a fetus. The body displays all the structures and anatomical links normal for the head, trunk and extremities. Taken together, the proportionality of the anatomical structures ... [allows us] to interpret beyond doubt, that this is a mummified human fetus completely normal."

And yet, promotional materials for the upcoming "Sirius" documentary suggest how DNA analysis resulted in the creature being of "unknown classification."

Now we have to wait and see exactly what "unknown classification" means when "Sirius" is unleashed on April 22 in Hollywood, followed by a limited theatrical release and video-on-demand launch.





http://www.huffingtonpost.com/2013/04/1 … de=2330914

I have no idea if it is a hoax or the remains of Beavis?