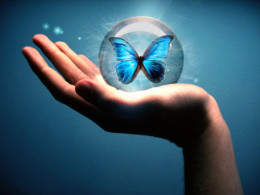 Just for the fun of it, to answer your question I looked up 'the butterfly effect' and learned something new. I had a vague idea that it means that whatever we think or do has an effect. It is from chaos theory, and the article I browsed says, 'The name of the effect, coined by Edward Lorenz, is derived from the theoretical example of a hurricane's formation being contingent on whether or not a distant butterfly had flapped its wings several weeks before.'

So yes, one person does have an effect on the world, does change it in one sense, does make it a different place, simply by living and breathing.

If you refer to one person being the catalyst for social change, yes of course, we do that too. To explore that further, I will share that while researching for one of my hubs (Expanding Awareness for a Change of Heart) I learned that the quote attributed to Gandhi, "Be the change you want to see in the world," was actually written by a marketing person to fit onto a bumper sticker.

It is not enough to change oneself, and see significant, global social change, yet changes brought through force or activism without personal transformation is empty and short-lived.

Your question does not ask, however, if one person has an effect on the world or if one person can make a difference. You ask if one person can change the world.

To answer that truly, I would have to understand what you mean by change the world. One thing I know is that change is already upon us, worldwide, and we will see changes whether we are part of it or not. This is still fresh in my energy field, as I have just completed a video-poem to go with an article for a new hub, 'Aquarium: Dawning of the Age of Transformation.'

Also, I have asked the question in Questions, 'What is your take on the global changes we are undergoing and co-creating?' When I was writing the question on HubPages, your question showed up!

Thank you for asking, ananceleste. How would you answer your question?