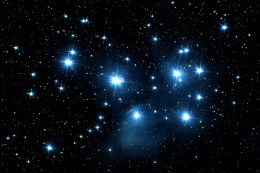 This is a fun question to address lightly, with some imagination, and as you said 'to get the brain working.'

As I see it, the 'real' or 'whole' answer will be more complex.

We could start by asking more questions.

What says humans all have the same origin?

Even if we have a common biological origin, is it possible that each person has an animating soul - from various corners of the universe?

Is it possible that 'individual units of consciousness' which reside in individual physical bodies originated from dimensions beyond anything our sensory experience and well-laden interpretations can tell us?

Among the New age crowd, people sometimes talk about being 'old souls' or 'young souls' and 'being from' the Pleiades or from Sirius.

I have remained neutral on this subject, also on the subject of life on other planets. My non-committal response is, 'the universe is full of life.'

But I have some fun by saying, 'I used to be from Sirius. Now I am from Playful.'

lumen2light, your question sparked me to look up Pleiades for correct spelling, and I came across some interesting writing. It is the Historicist blog. Haven't read in-depth and don't know the angle of the writer, but will quote:

'Consider this - The Pleiades, seven stars clustered together in the northern sky.

'Problem: the ancients called them the seven sisters. But only six can be seen with the naked eye. The seventh is a dark neutron star.

'Question: How did the ancients know? For centuries this star was called the lost Pleiade because no one could figure out why the ancients had thought that there were seven, when clearly there are only six..'

Browsing the first paragraphs, the writing seems intelligent and offers another perspective.

Years ago I was fascinated by the writings of T. Lobsang Rampa who claimed to be a Tibetan trained in metaphysics and the occult. Some of his books describe Gardeners of the Earth and humanoids brought from other planets. I corresponded with Rampa in the 70s. Later he was found to be of questionable origin himself, that is, he was a plumber from England.

But that was unimportant, as his writings stirred my imagination and opened my mind to look at things from outside the box, just to consider them.

Is it possible that before the earth solidified into the 3rd dimension, it was populated by beings who were also not fully solidified? That among them were the Lemurians and other subtle races?

One thing I know -- there is more to us than meets the eye.