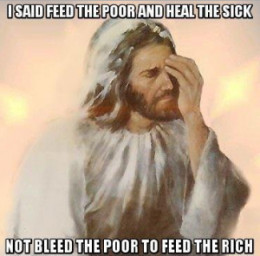 If you go by what the Bible says, Jesus explicitly told those who followed him that, if they want to enter the Kingdom of God, they must give their material possessions to the poor, leave their old lives behind, and travel the world preaching what Jesus taught. The followers of Jesus were to lead lives of asceticism, and put their belongings to better use--that is, in the hands of those who don't yet follow Jesus so that they may be inspired by the act of kindness and follow also. While Matthew 19:24 is a catchy verse, people often forget what happens before then--a rich man says, "Hey, how can I enter the Kingdom of God?" and Jesus says, "Keep the commandments, and here they are," but then the rich man says, "Yeah, I do all that, so what am I lacking?" and then this happens...

Matthew 19:21-23, "Jesus said unto him, If thou wilt be perfect, go and sell that thou hast, and give to the poor, and thou shalt have treasure in heaven: and come and follow me / But when the young man heard that saying, he went away sorrowful: for he had great possessions. / Then said Jesus unto his disciples, Verily I say unto you, That a rich man shall hardly enter into the kingdom of heaven."

But if you go by what Christians actually do, then you'd be led into thinking Jesus' teachings consisted of "SCREW YOU, GOT MINE."

You see, when Atheists get angry at Christianity (among other religions), it's not because they hate Jesus--hell, if Jesus were real, he sounds like a pretty swell guy who would be absolutely reviled by the Religious Right if he were alive today--but because they hate those who claim to follow Jesus yet adhere to absolutely none of the things he taught.