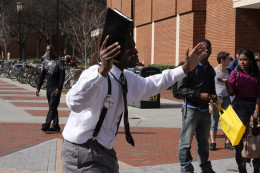 Many religionists have a very narrow perspective as to what spirituality is. They strongly contend that it is their way or it is wrong. They maintain that their religious perspective and outlook are the only legitimate and acceptable one and that everyone else is wrong in their belief. They also believe in extremes regarding religion and spirituality because they are afraid that if they explore or listen to other religious/spiritual perspective, they will probably question their own religious outlook. The last aspect is what they fear the most. They think in extremes because they are afraid of learning and growing by being open to other prospects so they shut down, remaining in their religious comfort zone so to speak.

They also have a childish, immature approach to religion and spirituality. It is all strict dichotomies to them. It is either good or bad, right or wrong. They see morality and religious matters in terms of extreme absolutes. They cannot, do not, and most of all, will not see morality and religious matters in terms of relativity and situations. Immature people are not capable of seeing things outside of strict dichotomies. They have not psychologically progressed beyond the level that there are figurative, metaphorical, and proverbial shades of grey instead of the literal black and white ways they view things.

As a result of their dichotomous view of thinking and belief, they are highly disdainful of anyone who has a different and opposite belief system. They cannot see that others have a legitimate right to have differing, even opposing beliefs. To them, that is inconceivable. They find it highly implausible for any right-thinking person to entertain a different/opposite belief system. They further maintain that such people must be in error and wrong for how can the latter have such beliefs. They have a level of insecurity because they want others to have the same beliefs as they do which explains why they are oftentimes proselytizing and trying to convert others to their way of thinking. If they were secure, they would live and let others live.