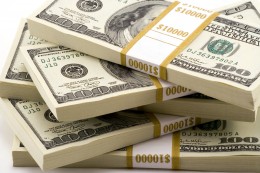 @Jackie, you are the quintessential example of a person w/a poverty, struggle, & scarcity consciousness, mentality, mindset, outlook & philosophy. You are the type of person who wants to be poor & struggling. You should have been taught the benefits of socioeconomic prosperity at a young age by your parents & schools. It is quite sad that you don't or don't want to learn the benefits of socioeconomic prosperity.

Well, let me educate you in that regard. Money is the TOOL of life. It means the difference between a comfortable, civilized quality of life & a primitive, animalistic, subsistent existence where struggle, poverty, & lack are normative. It is the difference between having better quality of food, clothing, health care, housing, & education. Money means access to travel & participation in intellectual & cultural things for yourself & for your children.

Wise & intelligent people know the VALUE of money. There ISN'T nothing wrong w/wealth. One inve$ts & $aves monies to benefit themselves when things become tough & in their old age. One furthermore inve$ts & $aves monies so h/she won't have to live in poverty. Also, one inve$ts & $aves monies in order for one descendants to have an easier life.

No intelligent & educated person wants to live in poverty & be bereft of material goods. Only a person from an impoverished background is comfortable w/the notion of impoverishment, struggle, & lack. Only a person w/such a background would ask this question.

P.S. One can use wealth to help others in need & to better the society h/she lives in. There is so much to be done w/wealth-to live a better life for oneself & one's family & to help others do the same. Poverty isn't chic no matter how one believes that it is. Poverty is abysmal. When will people realize this?