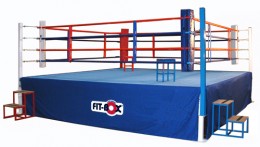 Because boxers used to fight in a circle drawn on the floor, called the ring. This name stuck On even after the boxing ring became a square

IN THE OLD DAYS THE FIGHTERS WERE SURROUNDED BY THE CROWD IN A CIRCLE.

THEY CALL THE FIGHTERS TO THE RING.

Because a long long time ago, before "rings" when two men brawled in the dirt people use to watch by standing round them, in a ring shape, then when a stage was added the name just stayed the same, the squared circle.