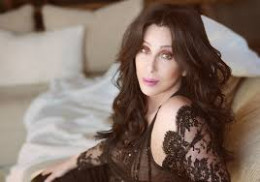 The days where one dressed one's age is long gone. In earlier times, dress/attire was the way to discern the young from the middle age & old. Young people were the ones who were highly experimental, even avant garde, with their looks.They were the ones who pushed the fashion buttons so to speak. As one became middle age, he/she felt or was advised to tone it down. He/she was expected by family, friends/peers, & society to act, even dress "one's age". His/her clothing was to be more conservative, if male, & matronly if female. Sensuality was deemed to be highly inappropriate for the middle age woman. After all, it was thought & surmised that she was losing her physical attractiveness & it was time to dress more subdued as to not to emphasize her attractiveness. Oh dear, in the earlier days, if one became old, forget about looking fashionable altogether as fashion was the purview of the young. It was deemed that old people were beyond any type of attractiveness. In essence, it was all over for them & they should just give it up entirely, settling be totally sexless in terms of fashion as they were no longer young hence attractive.

Well, thankfully, such days are over.The days where there was a very strict demarcation as to what is young, middle age, & old age is totally meaningless these days. Middle age & older women dress in ways to exude their sensual aura. They dress in ways that highlight their physicality. They refuse to succumb to age stereotype in dress. One sees middle age & older women in bikinis & revealing clothing. Just become one becomes middle age & older does not preclude them from being attractive. It also does not preclude them from being experimental in fashion choices. As long as one is in fit physical condition, there is no object as to how a middle aged & older women dress.

I contend that middle aged & older women who dress like teens & tweens have some issues. They want to capture their lost youth.They were perhaps reared in a strict home where, as teens &/or tweens, were not allowed to experiment with fashion or wear age appropriate clothing. They had parents who selected their fashions, contending that the latter was too immature to know how to dress appropriately.

Then there are those middle aged & older women who want to hold on to their youth AS LONG as possible.They were inculcated with negative messages about becoming older, being middle age &/or old. They DREAD becoming older &what it ENTAILS.