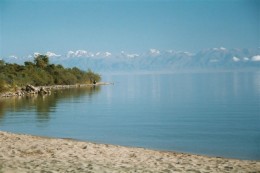 I can't really claim that any country is more beautiful than any other country. I have traveled to many places all over the world and I can't say that I have ever been disappointed in any country that I travelled in as far as beauty of the cities. mountains, beaches, forests, lakes, etc. I've had the most amazing times in many popular destinations including France, the U.K., Turkey, Sweden, Denmark, Norway, the Netherlands, Germany, Greece, Italy, Austria, Switzerland, Japan, Mexico, Canada, and Belgium.

Having said that, there is one country that has a special place in my family's life. It is a country that is fully contained in the Tian Shan mountains and its vast hills and grasslands are pretty much untouched by modern technology. I'm talking about Kyrgyzstan.

If you want to see the place which for me and my family is the most beautiful place, then travel to Lake Issyk-Kul in Kyrgyzstan.