sort by best latest
There was a study done that found that some people's memory improved when they studied while listening to music they particularly enjoyed. But this study was done with adults, so I don't know how well that would apply to children.
So obviously I'd say it is very dependent on the child and whether or not they're easily distracted or can still manage to study with the music playing.
AJ says
Absolutely! Every student is obviously different though. I don't think my daughter could study without music, and she has always been an A+ student, so it clearly works for her.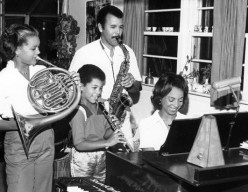 It all depends upon the child's grade & his/her ability to concentrate on his/her studies. It also depends upon the TYPE of music h/she is listening to. Sometimes hard rock 'n' roll music can be quite distracting to studying w/the child concentrating more on the music than his/her studies. Listening to classical music can be quite conducive to studying. However, it is best for children to study in a noise-free environment.
I remember as a teenager, my parents strictly forbade me to study while any type of music was one. Their mantra was to do only one thing at a time. If one was watching television, watch television. If one was reading, read etc.
I agree that it seems as though it would be distracting just like if I try to read a book and someone talks to me I lose train of thought, it might work for some.love the picture by the way

---