sort by best latest
To directly answer your question, it really appears to be an ego boosting popularity contest for him lined with free publicity. He is of the mindset that any publicity is good and I feel badly for him and his family because of that line of thinking. They are suffering for the "publicity" he is getting with his own words, actions, and in-actions.
I have been wondering what he is doing as well. He has so much blame for others yet none for himself and when asked questions, he rarely answers them, he talks but rarely directly (let alone truthfully) answers. He is full of double standards, flip flopping, insults and threats. I've never thought him to be conservative or Republican.
Express10

He is not a conservative republican, he is an American that wants to straighten out the mess created by the politicians.

And you bad mouthing him doesn't bring Clinton up from the basement.

She is losing and losing badly.

---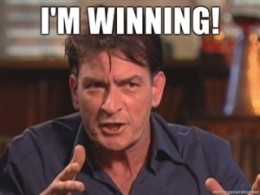 His staunch supporters denial of reality that Trump is becoming more unstable means they are dismissing flaws that would be unacceptable in any other person.
GOP office was fire bombed yesterday, Trump tweets: "Animals representing Hillary Clinton and Dems in North Carolina just firebombed our office in Orange County because we are winning,"
Wildly accusing his political rival with zero evidence seems to be dangerous fear mongering. What do you think?
I could not agree any more than I already do. You state his supporters dismiss flaws they don't accept in others. I see this often as well, even in responses to this question.

---
2 answers hidden due to negative feedback. Show
2 answers hidden due to negative feedback. Hide