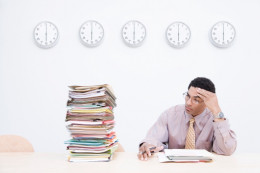 Oh dear, oh dear. I had such an experience when I graduated from college. My first job was working in tax as a clerk typist. I hated the job. I felt that a rhesus monkey with eyes closed could easily perform the job. I distanced myself from the job. I complained so much that my parents indicated that there were advancement tests that I could take. I eventually advanced to a professional position where I worked until retirement.

However, I am going to tell you something. Don't stay in a job you hate. It is NOT good for your self-esteem, mental and emotional health. I advise you to quit that job. Do something else, even if it is working from home online. Working on a job that one despises is selling your soul and committing soul suicide. No job is worth it! Do an internment while doing some paid tutoring on the side. Do not remind in a job that you hate. Eventually, that hatred will reflect in your work performance. You are not going to perform at your most optimum level in a job that you hate. You will only do enough to not to get terminated.

Your co-workers and supervisor will eventually detect your hostile job attitude and will treat you accordingly. Even though you think you are a satisfactory employee in a hated job, the facts oftentimes reveal otherwise. If one dislikes/hates his/her job, he/she will perform perfunctorily. He/she will not care as to how he/she performs that job. Eventually, his/her work performance will be so minimum that he/she will be terminated. Even if his/her work performance is satisfactory, his/her attendance will reflect this hatred/dislike of the job. He/she will take off as many days as possible just to stay away from the job. Poor time and attendance also lead to termination.

Also, this toxic attitude spills over to personal and familial relationships. People who hate/dislike their jobs are not pleasant people to be around. They can become abusive especially to the more vulnerable members of their families. They are also more likely to abuse and be addicted to controlled substances in order to dull the mental pain from that job. My advice is to QUIT and look for something more to your liking. You don't have to be ENSLAVED to a job that you hate! Quit that job NOW!