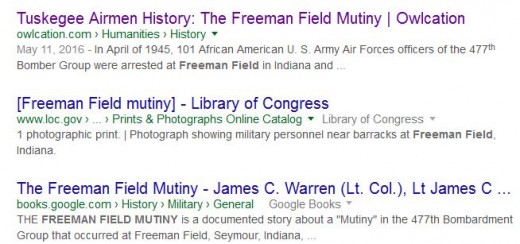 Yes, everybody thinks their favorite topic area deserves its own niche site. But in the case of "History" I think there really are some very valid reasons why this is so.

History differs from many other topic areas in that searchers are often really researchers. They don't just jump on the first or second listed article, but may look at dozens of titles to find the ones they think can give authoritative information on the topic they are researching. And in assessing authority, the name of the site definitely makes a difference.

When I'm doing research, and having to choose from among dozens of listings the several I want to invest my time in actually reading, the site name acts as a filter for eliminating the ones that are probably so frivolous I don't need to waste time on them.

The image above illustrates my point. It shows the Google listing for my hub, "Tuskegee Airmen History: The Freeman Field Mutiny." Note that the source site, Owlcation, is prominently listed on both the headline and the url line.

Now, look at the two listings under mine. The sources shown for these are the Library of Congress site for one, and the google.books.com listing of a Lt. Colonel's book for the other.

If you were researching "the Freeman Field Mutiny," which site name gives the greatest sense of historical authority? And based on that, which articles would most likely claim your valuable reading time? I fear that in that contest, "Owlcation" would come in last.

There are tons of articles on HubPages that could fit into a history niche site. I think that doing them justice, and giving them the best chance of being read, demands that they have their own appropriately named site.