It seems that several people still don't understand the issue. Even the staff don't get it. It's nothing to do with navigation. Navigation on the site is fine if you know what you are looking for.

It's not about finding what you want. Or the time it takes to scroll through. It's about sharing ideas, asking for assistance, learning and understanding how HP works. This forum:
https://hubpages.com/forum/hubpages and it's second page: https://hubpages.com/forum/hubpages?page=2 is the only place where people are likely to happen across information they didn't even know they needed.

On this forum there are two pages of links to threads. Right now, they total 47 threads. If most of those 47 slots are being used up by topics unrelated to writing, and writing at HP in particular, then many people will miss out on useful information because it 'falls off' the end of the threads. 47 threads isn't very many, especially if you are a new hubber with no idea where you are or what you are doing. And when those 47 threads are devoted to games, quotes and off-topic stuff, it means there is less actual HP knowledge available.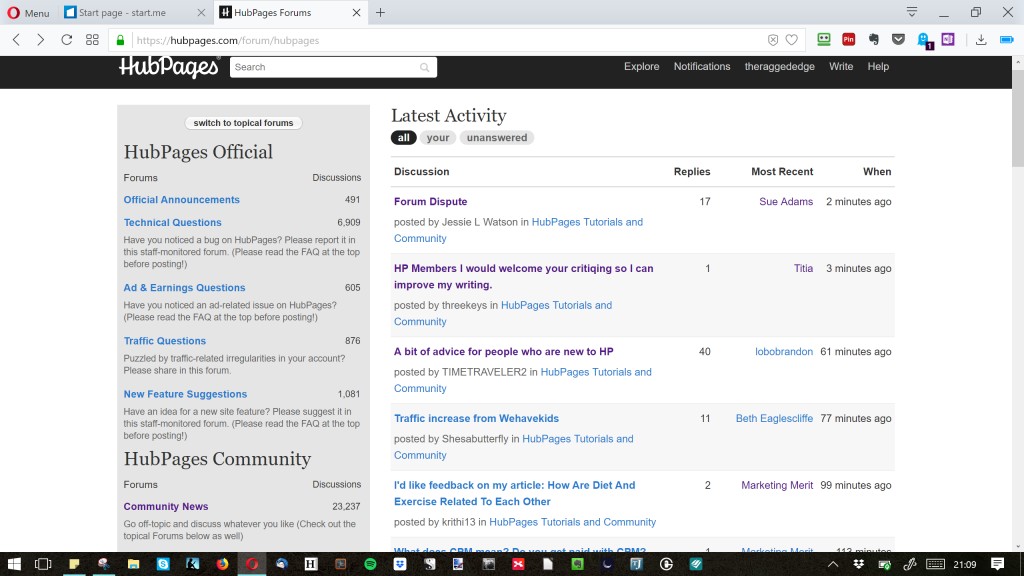 If someone only visits this page once every couple of days, they are going miss an awful lot. And you can't bump something up if you can't see it in the first place. And neither is it just about helping newbies, it's about everyone who writes at HubPages who has something to share, whether it's a resource, an idea, a suggestion or a tip about writing here. Because, above all, HP is a writer's site, not a social media platform. And this is the only part of the HP site where those things can be shared.

To be honest, I and several others, are fed up of being labelled 'forum Nazis' and similar when all we are trying to do is raise a valid issue. Yes, several of us have called the off-topic material all kinds of names, however, I don't see anyone berating or name-calling apart from the few who seem unable to grasp the point.

And, yet again, I will reiterate: no-one says the off-topic threads shouldn't exist, despite Jessie's insistence that that's what was meant. It never was about that. It was simply the fact that we ALREADY HAVE a dedicated forum for all those kinds of things. Right here: https://hubpages.com/forum/topical

Go look. See all those topics? Everything anyone could possibly want in the way of entertainment and discussion. So why not post there and allow the writing topics some space?

The other forum was called the 'dark side' because of the threads in the political categories that always degenerate into a chaotic discussion... a bit like the ones here at the moment.

If anyone has read through https://hubpages.com/community/forum/33 … um-dispute and actually reads my posts, they will clearly see that at no time was I rude, insulting or critical of him. Yet Jessie thinks it's acceptable to make accusations and offer unwarranted observations of my character that he has somehow perceived despite not knowing me at all. Perhaps he takes an opposing viewpoint as a personal criticism?

The end result of all this, is that people who have been here a long time, the ones that pop in to see if there is any HP news, or anything interesting about Maven, or writing in general, and, of course, to answer any queries we can, are being pushed out, insulted, told to be quiet, and being told we are vitriolic. It seems that some people are allowed to express their annoyance, but others are not. And to be told I have an attitude problem by a relative newbie, who clearly has one of his own is amusing, to say the least.

Cheers.