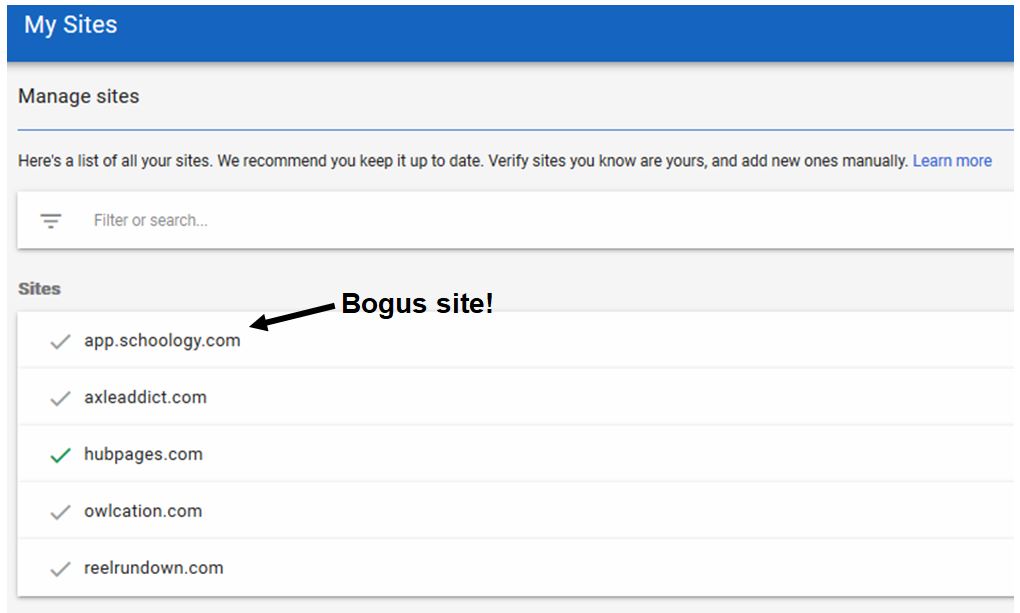 I just received an email from Google AdSense that I never expected to receive:

"In the last 24 hours: New violations were detected. As a result, ad serving has been restricted or disabled on pages where these violations of the AdSense Program Policies were found."

Panic! What made it much worse was that Google's directions for finding out what the violation was are so Byzantine it took a long time to find it.

When I finally found the violation, I was still confused. It was for a site I don't own or know anything about, app[dot]schoology[dot]com. Turns out, that site had copied my AdSense code. Google says that this is not uncommon since AdSense codes are publicly available.

Google's remedy is the use of site authorization, which limits ad payments only to sites you specifically authorize. This doesn't remove your code from the bogus site; ads will still appear there, but they won't be paid, and you won't get hit with violations for that site.

When I finally figured out how to get to my "Manage Sites" page for my AdSense account, not only did I see that the bogus account was at the top of the list, but also only a few of the HubPages niche sites were listed as verified. I turned on site verification, and turned off verification for the bogus site.

IMPORTANT: Because I am now requiring that only verified sites can be served paid ads, I added the rest of the 27 HP niche sites manually so that they are listed as verified and I'll continue to receive revenue from ads on those sites.

You may want to check your AdSense account report to see if any bogus sites have been added.