I thought this might interesting; we all meet together here in cyberspace, where it's all ideas and feeling, etc, no real tactile, material connection . . . I believe we really can get to know each other, the real us is (I think) our ideas and feelings about things, but, how about if we fill-in a blank, how about if we give a tangible image of where we each actually are as we meet through the screen before us . . . perhaps having a mental picture of the actual material place where we each are as we meet cerebrally in the airwaves will enhance our companionship . . ?

My space, my desk, I like to have like a cockpit, everything close and within reach. and if you notice on the left-hand side of the photo, hanging on the outside of the bookcase, is a photo of my sweetheart, Pixie - and above her is one of my great treasures, a copy of a letter written by John Newton (Amazing Grace) on a page from the 1st edition of his memories.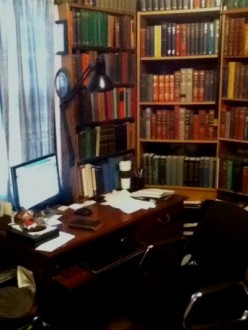 How about you - where do you go to meet us all?