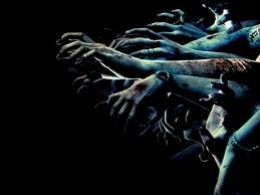 A family that is socioeconomically poor, even penurious. Parents who are either unintelligent or uneducated enough to know about judicious family planning. Parents who act based upon primitive, animalistic instinct instead of logic. Parents who are irresponsible & immature to care about the detrimental ramifications of their actions upon their existing children.

Children who have to constantly GO WITHOUT, even the rudiments. Children who have to wear castoff, even throwaway clothing because regular clothing is out of their socioeconomic purview. Children bereft of medical & health care. Children who look malnourished because of poor quality food as better quality of food is too expensive. Children who are academically behind because of a lack of educational & intellectual paraphernalia in the home.

Children who must parent themselves as their parents are unavailable. Oldest children being compelled to parent younger siblings, middle children falling through the familial cracks, & youngest getting the "lion's share" of parental attention. High incidences of child neglect w/a touch of child abuse being thrown in. Corporal punishment being a normative lifestyle as parents are too stretched out to discuss things w/their children.

No parental hugs nor affection. Children feeling unloved & unwanted. Children being viewed as tolerable burdens at best & noisome nuisances at worst. Perfunctory parenting at best & neglectful, absentee parenting at worst. Children being pushed out of the home as soon as possible.

Since there is no home training, children are feral, uncultured, & rowdy. They have no self-control impulses. They run wild & unruly. They are also behavioral problems, especially in school. They are the ones who will become delinquents, gravitate towards gangs, & become teenage parents because they didn't receive parental attention, love, nor guidance. These children will grow up to be the LEAST educated & socioeconomically poorest adults, yet continuing another generational cycle of poverty, large families, & poor outcomes.

In essence, such families are condemned to a HELL on earth based upon the actions of their stupid, irresponsible parents. One can say that the large family system is tantamount to child abuse of the........WORST KIND. Slaves & forced laborers have it better.