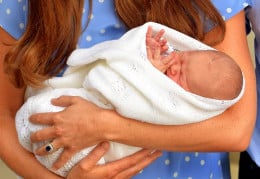 To many Americans, royalty is elevated to almost supernatural status. We do not have anything equivalent to royal families with the exception of perhaps the Kennedys. There are some Americans despite the premise of a classless culture and society, pine for some type of royalty and the Windsors are it so to speak.

The royal baby is only an extension of the worship of royalty among some Americans. They also view royalty as exemplifying class, taste, civilization, and culture Royalty is also viewed as beyond reproach and deemed untouchable in a positive sense. Royalty is furthermore considered to be beyond human and "not like us".

Many Americans worship the wealthy because they are seen as better and more than the average person. This is evident in the worship of celebrities, sports figures, highly successful people from all work of life, noted political dynasties such as the Kennedys, and/or royalty. Wealthier babies, especially noted ones, are always the subjects of coverage. After all, they are A NAME in one way or another. Yes, classism was, is, and shall forever be.