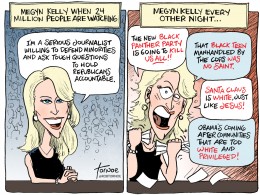 She is a lot of things, successful, pretty (if you like blondes), smart, and a phony.

Did you see her interview with Dr. Phil? Yeah she went on his show to promote her book Settle for More, and he just fawned all over her. Why? Because, and this is probably the reason he had her on his show, she had what I believe is a phony story about how when she had it all, a successful lawyer and married to a doctor (WOW) she was still so unhappy and working 18 hours a day! Despite her depression and working 18 hours a day she claimed she would get home at midnight and guess what - she would watch reruns of Oprah...(Oprah at midnight? to relax after working 18 hours every day? I think I'd go to bed). Well according to her she turned on Oprah to see her interviewing Dr. Phil and what Dr. Phil said changed her whole life. Really? Well here is how she tells it. https://www.youtube.com/watch?v=lb6jou1rf-

What a coincidence that she heard Dr. Phil and what he said years ago changed her life and now as she is reaching the pinnacle of her career he and Oprah get some kind of credit! Did she get the idea to "settle for more" from Dr. Phil? Really? If she had gotten the idea from anyone else so you think she'd be on the Dr. Phil show? I wonder if she called him or he called her for the interview. She is really smart and smooth, she knows how to pander to the really rich and the elite, eg. siding with them against Trump to get points in Oprah circles who normally would look at her askance for working for Fox. See she knew to really get to the top and rub noses with the multi-billionaires she would have to shed Fox, all part of her plan to "settle for more" which I believe didn't come from Dr. Phil but is her nature to the core, an obsession to have it all.

But that's not all. I said she is a phony and this is the real tell. She claimed in her interview that Roger Ailes, her boss, years ago sexually harassed her. She only made this accusation after Gretchen went public with her harassment charges against Ailes. She said that after Gretchen went public if she were asked she wasn't going to lie. But she repeatedly praised Ailes in public throughout her career. Dr. Phil asked her about that and she claimed the reason was that all employees were told to and obligated to do that when working for Fox. If you know anything about Dr. Phil, if another guest on his show rationalized like that he'd have been all over them asking to explain how if you will not compromise your principles and lie if asked, how do you justify compromising them because Fox tells you to praise your boss whom you know first hand sexually harasses employees?

But Dr. Phil feigned asking tough questions which she obviously knew he was going to ask so she was prepared and Dr. Phil let her slide on morality. After all, it was ratings for him and book sales for Megyn, yeah they all get richer while getting more popular patting each other on the back all the away to the bank.