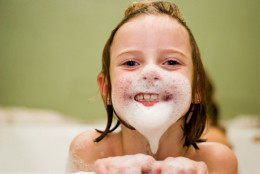 Children should be bathed at least once a day. As a child, I was bathed at least once daily, sometimes twice. Cleanliness is next to godliness. Bathing any less than once daily is totally unsanitary. Bathing a toddler and/or child once every couple of days-abusive if you ask me.

I would say bathe your 5-8 year old every day. I would like to add that by that the time a child reaches 5 years of age, he/she should be able to bathe himself/herself. Bath should be EVERY DAY or TWICE A DAY.

Frequent baths do not deplete skin's natural defenses- there are bath gels made specifically for young skins i.e. Johnson's Baby Wash which is not only for babies and toddlers but for young children. There is also Ivory Wash, a gentle cleanser. Johnson's Baby Shampoo can also serve as a body wash for children. I use these products myself.