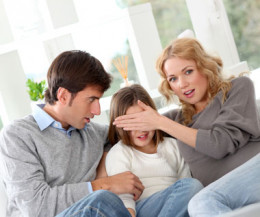 Of course! Many overprotective parents think that they are helping their children when in fact,they are hampering their children.Parents who are overprotective believe that their children are incapable of solving their own problems.They contend that as parents, it is their duty and/or obligation to solve as much as their children's problems as possible.They furthermore believe that it is their parental duty to make their children's lives as stress free and happy as possible.

Children must experience some amount of frustration in order to grow and learn how to endure the stresses of life.Children also must learn to do things for themselves in order to gain more independence and to feel a sense of self-confidence and self- assurance.This self-confidence and self-assurance comes from gradually mastering tasks and responsibilities in graduation.When parents do everything for their children, they take away this feeling of self-mastery in their children.Children of overprotective parents are oftentimes dependent and are not self-starters.They are also timid risk aversive children who are afraid to try new things because they believe that they are not capable of doing so.

Chlidren of overprotective parents do not acquire the normal life skills,using independent judgement, and beng independent that children from more normative homes have.Overprotective parents severely infantilize their children as to make them more developmentally immature than their same age counterparts. Overprotective parents view the world and their environment as a dangerous place and they inculcate this premise unto their children.They believe that the only way that their children avoid danger is to be constantly under adult supervision, either theirs or another trusted adult.Even in safe neighborhoods,the child, even when age appropriate, is not allowed to be without adult company.

Overprotective parents cannot be with their children 24/7/365.Since these children were not taught the prerequisite age appropriate life/survival skills, teachers oftentimes have to endure daunting tasks regarding supervision of such children. Many teachers are aghast that they have to perform tasks for such children that they should be able to do for themselves i.e. tying their shoes and doing other elementary tasks.This dependent behavior continues into high school, college, and beyond. Such children are often failures in life.