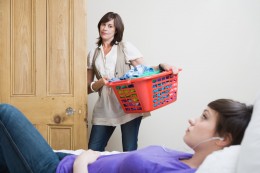 Every teenager reaches a point where they believe they are an "adult". However most parents will never view their children as being adults until they have a full-time job, are independent, no longer living under their roof, self-reliant, paying their own rent/mortgage, and so forth. Even when I went away to college every time there was a school break in which I came home my mother expected to (resume) the role I played while in high school. Eventually I stopped coming home for the holidays and when I left college I moved 2000 miles away.
When my mother came out to visit me in California I could see a level of respect she had for me had increased significantly.
Legally you are an adult at age 18 in most places. However it's not until you move out and no longer financially dependent on your parents that they will see you that way.
One adage goes: "He who has the gold makes the rules."
Don't expect to be able to tell someone how to treat you in (their home) especially if they are providing for (you)! Most teens in your situation choose to go away to college, join the military, or find a fulltime job to get their own apartment or with a roommate.
In order to been seen as an "adult" you will have to take on adult responsibilities! When you're on your own you don't have to ask.