First of all keep in mind that sweet potatoes and yams tend to decay a lot faster than white potatoes because of their high sugar content.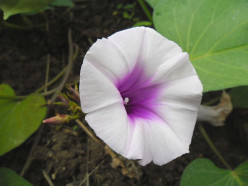 Sweet Potatoes In Bloom

The Sweet Nature Of Sweet Potatoes

Sweet potatoes cook somewhat differnt than regular white potatoes in that they tend to become sweeter the more that you cook them. A percentage of the starch in a sweet potato converts to sugar when the potato is heated or cooked. The cells in a sweet potato are not as strong as those in a white potato and when it is boiled it will easily absorb water and swell up.

Sweet potatoes contain the same number of calories as white potatoes, however, they contain more vitamin C and three times the beta-carotene.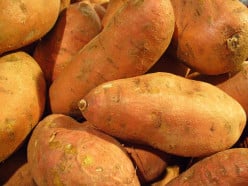 Cook sweet potatoes with the skins on. When fork tender, drain and submerge in cold water. The peels will be much easier to remove this way.






What's The Differnce Between A Sweet Potato And A Yam?

In the south, moist, dark-fleshed sweet potatoes are often called yams, and to add to the confusion, canned sweet potatoes are frequently labeled as yams. However, true yams are not sold that often in the United States, though they can sometimes be found in Latin American markets.

You can easily substituted for fresh. Three medium size sweet potatoes are roughly equivlent to 1 (16 oz. ) can sweet potatoes or 2 cups cooked and mashed.

Timesaving Tip

Whole sweet potatoes can be microwaved just as regular potatoes. Scrub 2 medium size sweet potatoes and prick several times with a fork. Arrange on a layer of paper towels in the microwave oven. Microwave, uncovered for 7 - 8 minutes or until soft and done. Let them stand for 5 minutes before you serve them.