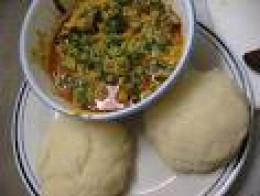 I eat soup almost everyday.

In Nigeria (and I think most of West Africa) our idea of soup differes from that of the west. Our soups are rich mixtures of palm oil, vegetables, seafood, dry fish , meat and then some very local condiments like ogbono, egusi etc.

The picture is of pounded yam and egusi soup.

These soups are not eaten alone.

We eat them with a carbohydrate/starch meal. This could be pounded yam, plantain, cocoyam. Or it could be based on a grain like corn, wheat, millet or rice. Cassava is the most commonly used base for the carbohydrate part as it can be processed into so many forms like garri, fufu or loi loi. In some parts of Nigeria soups are eaten with plain cassava starch.

To eat, you roll a small ball of the carbohydrate (with your fingers), dunk it in the soup and enjoy.