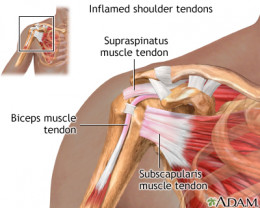 Tendons are rubbery cord like structures that attach a muscle to the bone. They exist in most parts of our musculoskeletal structures- noticeable at the shoulder, elbow, wrist, finger, knee, ankle, heel etc.

They can get inflamed from injury or overuse. For example in the case of the elbow one can get 'Tennis elbow' or 'Golfer's elbow' both of which are types of tendonitis due to overuse or stretching injuries even in day to day activities.

Running/Jogging can cause Achilles tendonitis on the back of the ankle/heel.
In most minor cases rest, some mild painkillers or local massage helps heal the inflammation. Prevention is doen by proper warming up exercises and frequent rest/massage. In advanced or long term cases anti-inflammatories like ibuprofen or diclofenac for a short while; physiotherapy, local shock wave therapy using sonic waves or injections help.. In rare cases surgery maybe warranted.