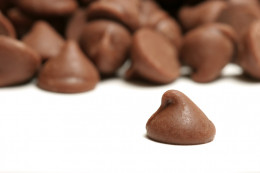 Dark chocolate, stimulates dopamine in the brain, the everything is alright neurotransmitter. It also stimulates estrogen hormone production, that's why we crave it when aunt flo comes for a visit. (just a note to the gentlemen, Chocolate makes everything better) Hershey kisses always tame aunt flo, just trust me on this one. As well as pecans, flaxseeds, soy, and wild yam. Not as tasty, but still the same affect.
Among the other health benefits, contains anti oxidants, helps with a cough, lowers blood pressure, and reduces the risk for heart problems, and cholesterol. It's no wonder we crave it.
I'm not talking the cosmic, blowout chocolate mousse with everything on it supreme, just some plain dark chocolate.