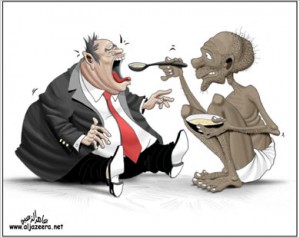 Apparently there have been some studies recently into the psychological effects of wealth and poverty on the human mind. Lawrence Davidson of OpEd News writes..
"The notion that the poor can make "free and rational choices" and thus can be held responsible for their situation is incorrect. There is accumulating evidence that poverty literally "messes with your mind" in a way that obstructs responsible choices. In fact, the "free market" contributes to an environment that makes the poor decidedly unfree: confused, preoccupied, and feeling overwhelmed and hopeless. In other words, being poor makes you cognitively dysfunctional.

The latest research to show this was published in August 2013 in the journal Science and is titled "Poverty Impedes Cognitive Function." The gist of the argument is, "Poverty captures attention, triggers intrusive thoughts, and reduces cognitive resources." In other words, the more preoccupied one is with troubles, the less able one is to muster the "cognitive resources" necessary to rationally "guide choice and action." Most people find themselves overwhelmed with problems now and then, but not constantly. What living in poverty does is to hit a person with a toxic cocktail of overwhelming problems day in and day out: financial problems, health problems, parenting issues, victimization by criminals and others, and the problem of just finding and keeping a job."

http://www.opednews.com/articles/The-Mi … 1-764.html
And
Maia Szalavitz of TIME writes
"In a series of experiments, the new study found that lower-class people were better at reading emotions on others' faces — one measure of what researchers call empathic accuracy — than people in the upper class. "A lot of what we see is a baseline orientation for the lower class to be more empathetic and the upper class to be less [so]," says Michael Kraus, a co-author of the study and a postdoctoral student at the University of California, San Francisco.
Why might that be? "Lower-class environments are much different from upper-class environments," explains Kraus. "Lower-class individuals have to respond chronically to a number of vulnerabilities and social threats. You really need to depend on others so they will tell you if a social threat or opportunity is coming and that makes you more perceptive of emotions."
Study co-author Dacher Keltner, a professor of psychology at the University of California, Berkeley, agrees that people in lower socioeconomic classes "live lives defined by threat. They are threatened by the environment, by institutions and by other people. One of most adaptive strategies in response to threat is to be very vigilant and carefully attend to others and try to promote cooperation to build strong alliances."
An earlier study by the same researchers found that those of lower socioeconomic status were also more helpful and generous, suggesting that it's not just empathic accuracy but empathy itself that may be enhanced by circumstance. "Coming from an environment where you're more vulnerable, you solve problems by turning to others," says Kraus. That increases empathy and strengthens social bonds."
More often than not those in positions of power who could make substantial strides toward eradicating poverty are wealthy.
"We are living in a period of historically high inequality. Health problems and psychological problems are correlated with inequality and we have rising inequality," says Keltner. "People in positions of power are not going to see [the inequality]. They're going to be blind to it and that has enormous implications for how we educate leaders, why they may not see [what's] obvious [to everyone else] and why they may not even understand the suffering of the people below them."
http://healthland.time.com/2010/11/24/t … s-empathy/
So, if the findings of this research are accurate, what should/ can the poor do? In our modern world where everyone depends heavily on money and the only people who can help the "have nots" are the "haves" who largely don't care, what can be done? Should the poor just accept it? Should they revolt?? What about the rest of us? Should we just see it as a problem for the poor to worry about? Is there hope? What do you think?