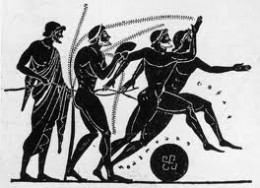 Excuse me, I am an incurable romantic. I like the idea of the United Nations. Originally, it was not intended to police or govern. Just like the U.S., that role was thrust on the U.N. by events beyond their control. It is a tough role to play. It is too hard to get it right, to get it right.

Personally, I am sick of my fellow Americans and their endless complaints about everything. Our problems would be easy to solve if we weren't so easily distracted. Let's get on task and quit running after every issue as if we really plan on action. We have become a nation of talkers. Meanwhile, we are being fleeced. It doesn't have diddly to do with the U.N.

It is like the Olympics. It used to be strictly for amatures . . . a fellowship of athletes from all corners of the globe. We ruined it. Americans couldn't stand to lose to state sponsored athletes from Socialist countries, where they don't have professional sports.
Never mind that our amateurs held their own, we had to change the rules to allow our pros to compete. Now, the "Dream Team" dominates, but it is a nightmare for young amateurs coming up who miss their chance at the international competition and fellowship.

What about all of the smaller countries without huge budgets? They are usually blown out by hyper-competitive big dogs, now. I'm sure it isn't as much fun as it used to be.

That's it! I know what the problem is. We take the fun and fellowship out of everything.