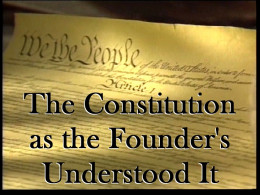 You bring up a very good point. Today's representatives on balance do not care about and work for the constituents but most only care about their own self-interests. But we must understand to overhaul the current political system does not include an overhaul of the Constitution. Only a fool would launch on a platform to fundamentally change this country by changing or ignoring the tenants of our constitution. What is needed is not a fundamental change of the country the Founders designed but a correction in the direction human morality and political practices have strayed from the Founders principles. The system of government our founding fathers envisioned exists in print but no longer exists in practice.

The Founders never envisioned the federal government having the power it has today and is gaining as time goes on.

The Founders never envisioned career politicians, made rich by their civil service and catering to special interests running the country.

The Founders never envisioned the welfare state this country has become mainly how politicians buy votes for promises of free stuff.

The Founders never envisioned a country where the elections can be bought by the highest bidder, the one who has the most campaign finance.

The Founders never envisioned a country with a dishonest media in the pocket of politicians.

Politicians were never supposed to have the kind of stranglehold on their offices they hold today.The American public is passively condoning this ineffective system by not demanding better. We need to be able to recall leaders who do not live up to their campaign promises. A lot of damage can be done in a two year term in the House of Representatives, and even more with four years in the White House or six years in the Senate.

We must reform the way our elections are financed and institute a way to recall politicians who are incapable of doing their jobs. Without these changes, America as we knew it will soon become unrecognizable.
The Founders setup an environment for success, by their international import tariffs and making taxes between states illegal. This assured you could make money by investing here and the states could not engage in trade wars, like we are currently in with the 160 protectionist nations on Earth. The Feds are trying to undo Constitutional provisions against tariffs between the states, as we speak. The Founders made Interstate Regionalism illegal, to promote National unity and identity.
So much more can be said.