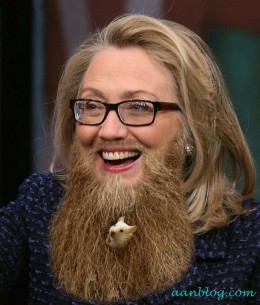 Whuffo' is ev'ryone pickin' on Granny Hiliary? No one unnerstan's th' plight of illegals like she does!

She was daid busted: http://weaselzippers.us/189180-dead-bro … -pardoned/ when she an' B.J. lef' th' white house (no doubt on account o' they were fo'ced t'return o' pay fo' 190,000 in gif's th' couple had origeenally sought t'leave wif?)

Fo' hevvin sake, B. J. was jest interviewed t'other day about makin' his $100,000,000 fum speeches on over th' past years after he lef' th' White House an' when axed eff'n he's still a-gonna charge $500,000 a speech he indicated hell yeah, he has t'pay th' bills! They still ain't gotten out fum unner, fum bein' busted when they lef' th' White House ah guess!

But lissen hyar now. When it comes t'undocoomnted immigrants, yo' know, fine they call them illegals fo' a reason, fine hell's bell's ain't no one knows mo'e 'bout illegalities than Hiliary Clinton! Fry mah hide! Jest look at all them illegalities she been committin' gwine way back t'th' Watergate investigashun. An' now we is gittin' a noo one jest about ev'ry week. Shet mah mouth! An' Hiliary's told us 'bout how she an' her dotter was lucky t'live through their helicopper lan'in' in Bosnia when th' snipers tried t'massacre them, dawgone it. They even got it on tape: https://www.youtube.com/watch?v=uHVEDq6RVXc How mo'e patriotic an' truthful kin a Clinton be, rihideg her own dotter's life like thet fo' a hoominitarian misshun?

Whuffo' make it easier fo' undocoomnted Immigrants t'git citizenship? How else is Hiliary supposed t'ovahcome th' vast right win' cornspiracy? Golly. Give her a bust, whut does yer hankerin' t'do make her cry? Th' Clinton's haf had it so hard, who else kin relate t'th' th' plight of illegals? An' be their champion! Fry mah hide!

An' Lie, yo' kin't be president eff'n yo' kin't lie. Obama has showed us yo' doesn't hafta be fine at it, yo' jest gotta does it all th' time an' lie about yer lyin'. Whuffo' does yo' reckon her name is Hi-liar-y

Yep, take it fum me, a member of th' backbone of South Car'lina who made this hyar country great, Hiliary's our man, eff'n he kin't does it nobody kin, illegally thar.