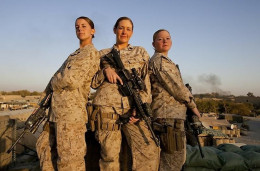 No. Each gender and individual define that for themselves.
Less than 5% of the population identifies themselves in the LBGT community. That's hardly a major shift in overall conformity.
Naturally due to the feminist movement, transgender awareness, and eliminating laws that discriminate regarding gender and orientation it will have an impact on society socially.
We're never going back to the 1950s or prior eras where most women stayed at home to take care of children while their men went to work.
Today it's not unheard of for a woman to earn more money than her husband or men taking leave to spend time with newborn children.
The expectations of men and women have changed over the years. Husbands are expected to help out with children and help clean house. Women want to be in combat missions for the military, join the police and fire departments along with other once male roles.
However in the end much like beauty masculine and feminine is in the eye of the beholder and the mind of the individual.
When we start seeing Unisex pro NBA, NFL, MLB, NHL leagues that's when it will be clear that society has no interest in separating men from women due to gender. My guess is that will never happen. Most men don't want to be women and most women don't want to be men. They're happy being who they are.
In fact many feminist women in relationships still hold out for their man to make marriage proposals to them.
People will always love holding onto some traditions!