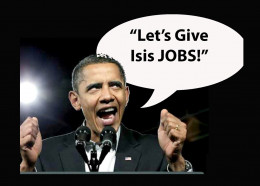 What does ISIS want? Obama's State Department thinks they want jobs!

Well that is a good question given that according to President Barack Hussein Obama they are not Muslims because Islam is a "peaceful" religion and the "future must not belong to those who slander the prophet of Islam," - Barack Obama 2012!

The prophet of Islam? Mr. President, are you talking about Muhammad? The rapist, pedophile, mass murderer, war monger, liar, cheater, thief and adulterer. Oh, yes let's not slander such as him. (Obama prefers to slander Republicans).

Don't take my word for it, listen to a muslim woman. https://www.youtube.com/watch?v=gKkckaZO4fw

And Mr. President if the Islamic terrorists are not Muslims, why was Bin Laden given a Muslim burial? Why was the San Bernardino duo given proper Muslim funereal rites?

Answer, because they ARE Muslims. Actually the "peaceful Muslims" are the ones who aren't practicing real Islam because true Islam is anything but peaceful.

So welcome ISIS to Obamaville, where evil is good and good is bad, right is wrong, and man made global warming is terrorism and terrorist are freedom fighters who just want a job. I thing ISIS may be pretty happy with Obamaville. I don't think ISIS really wants anything, Obama has given them everything they could want, starting with IRAQ and it will end with YOUR head on a stick.