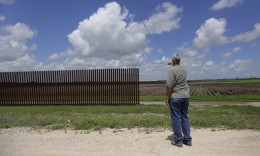 Ralph
I have written about this many times.
First the primary importance of the wall is to stop or reduce the illegal drug trafficking, human trafficking and weapons from coming into the US. The Drug Cartel has those three illegal products and they do about $25 billion of it Every Year.
This shows us how much of a drug problem that we have in the US. These illegal drug customers cause medical problems when they get sick, they cause crimes when they need money to keep up their drug habits, they fill up jails and prisons when they get caught. It is fair to say that many of them wind up committing suicide. About half of the gun deaths in the US are from suicides. The criminal element in the US from the illegal drugs are found in the various gangs that make their money from these drugs. Because of their billions in revenue the Drug Cartel owns most of the northern border of Mexico, and can develop sophisticated plans to cross the border. They use technology, weapons, and they have moles in the police, and even in the military, and most likely in our government.

So that would be a major victory if closing the border stops or even severely slows their business.

Second, and it may become first or co-first is stopping Terrorists from getting into the country, although with Obama and Clinton they don't have to cross the border illegally, they will be shuttled in and treated as Americans.
Third, and while it is the major reason for people to reject the wall, it is the illegal immigration. If the US and Mexico can some how handle the drug cartels, there may be a common interest in handling immigration.
The way it has been handled over the last several decades cost us free medical, free education, welfare, criminal activity (the Hispanic jail and prison population speaks for itself) and they send most of their money back to Mexico. They also discriminate against those immigrants that try to come into the country legally. It costs them time, expense and then most of them don't get into the country because of quotas. Everyone talks about equality, but this is not equality, it is discrimination by the US government. Yet, it falls on deaf and dumb ears, we call SCOTUS and the POTUS, and Congress (do we call them COTUS)?

The War on Drugs is over, we lost.
The War on Gangs is over we lost
The War on Crime is over we lost.