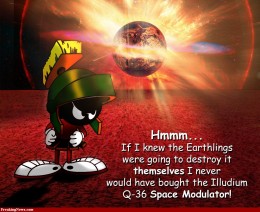 You mean Donald Trump and Hillary Clinton aren't cartoon characters? I think they are, but.....

How about Marvin the Martian!

Marvin hails from the planet Mars, so will have tons of supporters on earth who are "from another planet". He is often accompanied by his dog "K-9" (and sometimes by other creatures) but has never ate them or put them on the roof of his spaceship.

Marvin wears a Roman soldier's uniform, with basketball shoes. This certainly is more appealing to millennials and more stylish than Hillary's Mao-Tse-Tung like Wardrobe

The style of these shoes resembles the Chuck Taylor All-Stars brand name, not the expensive Air Jordan's which helps him relate to the poor downtrodden.

His head is a black sphere with only eyes for features. A welcoming sight to those of the electorate sick of seeing their candidate's mouth moving (which is how they know the candidate is lying).

The curved crest of his helmet appears, with the push-broom-like upper section, to comically resemble a Roman centurion's helmet which has to be appealing to the globalists in the electorate.

The appearance of the combination of Marvin's head and helmet allegedly led to Bugs Bunny thinking he was a "bowling ball wearing a spittoon" in one short so he can have Bugs Bunny as his running mate to show he has a sense of humor and is tolerant of other's viewpoints..

Marvin speaks with a soft, nasally accent, and often speaks technobabble. This is a good reason for him to use the teleprompter often which is what got Obama elected.

He is known for his trademark quotes like "Isn't that lovely?", and "This makes me very angry, very angry indeed" which are required and effective statements to attribute to a presidential candidate.

On numerous occasions, Marvin has tried to destroy the Earth with his "Illudium Q-36 Explosive Space Modulator". Although this is not something he would want to advertise liberals might relate to it because they secretly want to destroy America. Marvin attempts to destroy the Earth because, he reasons, "it obstructs my view of Venus"; he has been trying to destroy the Earth for more than two millennia, suggesting that members of his species, and possibly Martian creatures in general, have extremely long lifespans. These are all good reasons for the government to spend all our tax revenue on NASA colonizing Mars so that Marvin doesn't have to destroy the earth and when we do by man-made global warming he can go home and take us with him.

After all he is homeless and a minority, liberals would just have to vote for him.