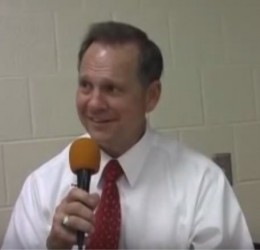 WHY have some Alabama Christians apparently moved "One GIANT Leap" toward the "DARK Side"???? I think we can all agree that this state has always been a symbol of Racism, Bigotry, Intolerance of Human Diversity & Vile Suppression of its Residents, but now, it appears as if there are actually some "Self-Proclaimed" Christian Women within the boundaries of this controversial southern region who may actually VOTE for Alleged PEDOPHILE Roy Moore to represent them in the United States Senate!! REALLY???? One Woman is a WACKY Leader of the "Women for Trump" idiocracy!!

Is this INDICATIVE of "Alabama VALUEs & How on EARTH did their Christianity Morph into a "Demonic SPIRITUAL Exercise" ????

Has the entire State of Alabama succumbed to a "Complete Mind Control COMPROMISE" at the Evil Hand of Satan???? What else could possibly explain the MADNESS of a person willing or in this case perhaps "DIRECTED & Compelled" by Unseen Sinister Forces, to actually hand over POWER to a Little Creepy Elderly Man in a COWBOY Costume who has been painted as a person who has Allegedly Committed CRIMEs so Despicable that even Confined Prisoners find it APPALLING ???? Not to mention his DESIRE to "TAKE" from the People" & "GIVE to Corrupt Corporations"~

The question now must be asked ~ Just how safe is Alabama for the Children or even adults???? Schools, Churches, Malls, Parks? Are they all COMPROMISED by the Roy Moore's of the world & more importantly, are the Roy Moores of the WORLD now Weclome in Alabama????