I hope you don't mind if I jump in My Esoteric, but a couple of your statements triggered my 'that ain't quite right' sensor.

One was your reference to the wealth pie. Your inference was that it is a static pie, (rich getting richer and the poor getting poorer, one benefitting at the detriment of the other?). I think your point about what the percentages mean--one is increasing while the other is decreasing is correct, but I don't think that has to equate to meaning the poor are getting poorer. Your percentages relate to income distribution -- not individual income.

You may have a different thought, but I don't think that wealth pie is static. I think it is ever increasing in size. Because of that view, I think the wealthy getting a larger percentage of the total income does not have to mean the poor are getting poorer. They may be getting a smaller percentage of the total income but still be increasing their income.

One piece of data behind that thought was in a Prof. Davies video you can see in this thread: https://hubpages.com/politics/forum/343 … ost4075727
*One caveat; The Prof. Davis source is a biased one, and there are many "right-wing" mantras throughout the video, but I don't think either of those negates the truth of the data of the two points I highlighted. However, since I only took a shallow dive into the numbers and method behind those points, I may have missed something you might find.

One graph shows that even while the inequality gap is increasing, the individual quintile's income, (by household), is increasing, with historical data, (1970--2010), showing an upward migration from lower to higher quintiles of income.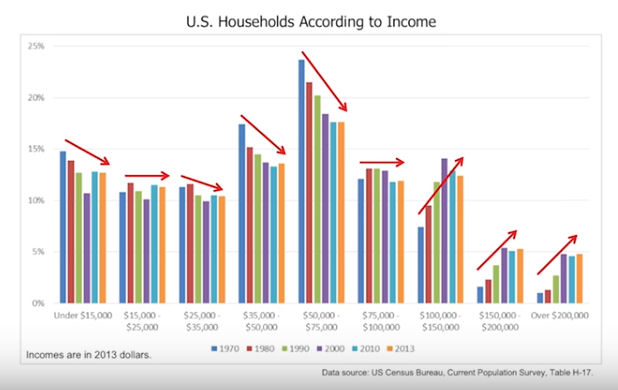 (If you happen to follow that link and look at the video, jump to about 11:15 to see the chart discussion)

So while the poor may be getting and holding a lower percentage of the total income of that wealth pie, because it, (the wealth pie), is ever increasing, those realities don't automatically mean the poor are getting poorer. Meaning, I think the "rich getting richer while the poor get poorer" is an incorrect statement.

Perhaps there is another metric measure that can validate that statement, but I don't think it is the inequality of the wealth pie or the GINI index that can do it.

Speaking of the GINI index, I think it too fails to make your point because it is also primarily referenced as an income distribution metric. There are GINI indexes of wealth rather than income but since they are much harder to support with empirical data, it is almost always the income metric that is referenced by them. Was your use of the GINI index numbers of the income or wealth metric? I am betting it was income.

Another example might more starkly show the fallacy of the GINI index, (income), as an indicator of individual wealth. The Global GINI index has been pegged at around .70 and the U.S. index at around .41. Globally speaking, that index includes 3rd world and 1st world comparisons. That doesn't seem like an equitable comparison to me, so I would be hesitant to draw any "wealth" assumptions from it.

And even though that .41 U.S. number shows an increase in distribution inequality, historical data firmly shows an increase in individual income at the same time the distribution numbers have widened.

That Davies video also spoke of this point at about the 9:50 point. It illustrated its premise with a comparison; Sweden and Afghanistan have comparable GINI index numbers; Sweden .25, and Afghanistan .28. The individual's wealth, (per capita income) of these two nations are radically different. Surely this shows that the GINI reference you make does not support the statement that the rich are getting richer at the expense of the poor getting poorer, does it?

GA