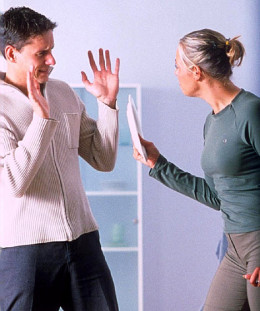 There are many people who believe that children deserve a stable home. In their eyes, a stable home means two parents. There are traditionalists who believe that parents, although they may loathe and detest each other, should stay together to provide a "strong,stable, loving" environment to their children. To them, the very worst thing is for their children to grow up in a broken and discordant household.

Furthermore, such traditionalists feel that it is extremely selfish for a couple to part ways especially if there are children involved. They feel that it is the MATURE and NOBLE thing to BE TOGETHER for the sake of the children. Besides traditionalists, there are religionists who do not believe in divorce, they believe that marriage is forever no matter how discordant. They believe that they are married until death does part so they stay together although they may odiously hate each other because to separate is viewed as sinful according to their religion.

Then there are those who see divorce as a sign of fialure and disgrace. They often remain together for the sake of appearances. They believe in putting up a front of the "happily married couple" in order to appear acceptable in the eyes of their peers, neighbors, family members, and their children. To them, divorce is a fate worse than death and they intend to avoid that at any cost.

Then there are those who come from broken homes and such people will remain married, even in a loveless relationship because they refuse to let their children experience what they have experienced as children. They want to give their children as stable a home environment as possible. To them, the thought of separating is totally aberrant to them. They want their children to have a "better" home environment than they had as children.

Of course, children sense when their parents stay together for their sakes. They also realize the hypocrisy of such arrangements. They know that their parents are not happy. They know that their parents are not honoring themselves nor them by staying together in a loveless marriage. They also know that their parents are too fearful and afraid to realize that they would be better off if they went their separate ways. Such children often lose respect for such parents for the latter are not truly authentic people living their particular truth.