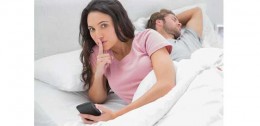 If it's called "cyber cheating" than it's obviously cheating.
Just because two people have yet to "consummate" a relationship doesn't mean they are not emotionally betraying their significant other. Cheating means "breaking the rules".
When it comes to "cheating" everyone has their own definition and level of degrees. For some people catching their mate flirting with another woman/man is cheating, exchanging contact information, sexting, or maintaining "secret friendships" can be viewed as cheating in the eyes of others. It's a breech of trust.
Some folks consider watching porn to be cheating.
Ultimately if you're doing/saying something you would not do if your mate were looking you in the eye there's a good chance you're cheating or disrespecting the relationship in (their mind).
There are usually two main components to cheating:
(Secrecy and deception).