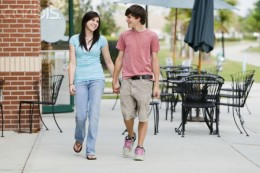 Rarely does one forget the "first anything" which had an impact.
What usually makes a "first love" difficult to forget is our first heartbreak. For many people it's the worst one of them all!
Some people never allow themselves to be "all in" again.
During the time of a "first love" it's usually when we're teenagers lacking in worldly experience, naïve, gullible, and extremely optimistic about our future. We've never been hurt before.
Lots of people truly believe they've met their soul-mate at age 16.
For many of us our "first love" usually takes place during a time where (we have very few responsibilities or obligations).
Therefore we're free to be whimsical and internally romanticize the slightest of activities and time we spend together.
Adult love on the other hand comes after heartbreak, disappointment, betrayal, and wisdom gained from experience.
We now have our "must have" list, "red flags" we look for or things to avoid, and we don't (assume) feelings are mutual.
We also have demanding jobs, bills to pay, or possibly children from past relationships or marriages that keeps us "grounded in reality". Our wants/needs of mate also evolve over time.
What made a guy/girl an ideal mate at 16 might not fly at 26, 36, or beyond. As we get older our list of "must haves" changes.