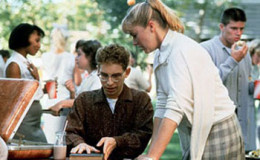 Both personalities are best. There is no one personality type better than the other. However, in postmodern, 2lst century Westernized cultures, extroversion is more highly valued. Extroverted people are oftentimes viewed as more intelligent, happy, and sociable than introverted people. American culture especially value the highly gregarious, in your face person than the more solitary, pensive person.

Children in this culture are constantly inculcated with the premise of being sociable and popular from parents, teachers, and other adult figures. Extroverted children are oftentimes deemed to be quicker developmentally and more socially adjusted than their introverted peers. Introverted children are frequently considered by parents, teachers, and other adult figures to "need fixing" and "adjustment" if they are to succeed and thrive in this culture. Introverted children are oftentimes demonized and viewed as backwards, weird, and developmentally slow although such is not the case. Many parents are ashamed of their introverted children because such children are viewed to be "lacking".

Not only parents and adult figures, many introverted children receive the message that they are inferior to their extroverted peers. The more popular and beloved children are the extroverts. This not only apply to young children but to tweens and teenagers. Tweens and teenagers who are extroverted have more friends, belong to more social groups, and are more popular than teenagers who are introverted. Introverted young people are clearly misunderstood among their parents, teachers, and peers. They are the odd people out and treated that way.

Introverted adults in many cases fare no better. Many times in the workplace, highly qualified introverts are passed over for promotions in favor of the extroverts who knows how to play the corporate game. Many supervisors do not consider introverts to be management and executive material. They are of the school that the BIG MOUTH is the LEADER, instead of the THOUGHTFUL person. Yes, introversion and extroversion are BOTH VALID personalities. However, extroversion is still MORE VALUED in this society than introversion although this perception is slowly changing....for the better.