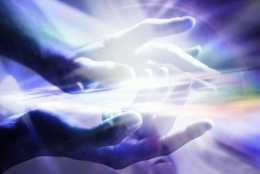 Heaven is the ultimate peace and nirvana. In Heaven, all is positive and all is good. Heaven is when we reach our ultimate spiritual evolvement. Heaven is when we spiritually are our best selves. In heaven, we are ONE with the Universal Force, God, or Godhead.

Of course Heaven is so many things to many people based upon their respective spiritual, ethical, philosophical, and/or religious beliefs. To many traditional religionists, Heaven is where they meet and are united with their respective spiritual leader be it Allah, Jesus, Buddha, Krishna, or whatever spiritual leader it is. Many traditional religionists strongly maintain that in Heaven, they are in God's
throne/kingdom. They further assert that in Heaven there is no more pain, want, sorrow, and other human foibles. To them, all will be WELL for an eternity.

Many people view Heaven as the ULTIMATE reward for a life well lived. Such people view the earth plane as a series of life tests which one must experience, endure, and overcome. They strongly believe that if one is successful on this earth plane, he/she will go to Heaven or a similar place. There are others who view life as just preparation for the heavenly reward so they live a very narrow prescribed life, believing that if they lead this prescribed path and not deviate from it, they will receive their reward in Heaven.

Then there are others who view Heaven as evolution in consciousness from the human to the spiritual level. They are of the school that death is just a transformation of consciousness from the physical to the spiritual. To them, Heaven is the highest and best possible transformation of consciousness and energy from the material to the nonmaterial.