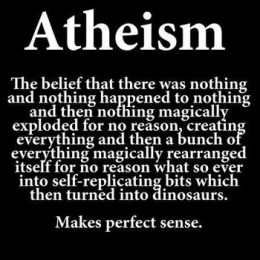 I'll tell you what makes perfect sense.

Look around you. Virtually any material thing you can think of that has order, purpose, design, beauty was created by intelligent beings...Humans. Automobiles didn't spontaneously evolve, skyscrapers didn't evolve, airplanes didn't evolve, computers didn't evolve and if you were to assert they did, no one would believe you.

Why then would anyone choose to believe that life evolved by chance when even the tiniest single celled organism is more intricate and complex than anything I have mentioned so far created by man, and it can replicate itself, over and over. If a car could replicate itself would anyone jump to the conclusion that it had to have evolved? let alone that now it could "evolve" into an airplane? given a few million years or so?

No! Because it is self-evident these "things" are all created by intelligent engineers, architects, designers, scientists, in short by intelligent beings, possessing intelligence far beyond anything they created. And so why should it be any different when it comes to explaining the creation of life, of the earth, the solar system, universe, all of creation which can be shown by probability and scientifically not to have occurred by chance.

"It makes perfect sense" that such a creator of all creation would have to possess intelligence far beyond human intelligence. He would have to have "Wisdom, the ability to devise perfect ends and to achieve these ends by the most perfect means." He would have to know no boundaries, be without measure, infinite & unconstrained by what he has created. He would have to have a superior morality (holiness), be omniscient and omnipresent to sustain his creation & lastly a loving God would not create free will beings and then leave them to suffer evil (of their own choosing) in a world fallen to sin without providing them a history and instruction on how to live, what life is about, who he is and salvation from the consequences of their transgressions.

Guess what, it makes perfect sense that this almighty loving, holy just God has given us the Bible, the Believers' Instructions Before Leaving Earth! The universe, all that is in it, life itself is evidence & testifies to the existence of God, the creator of all & the guardian of your eternal soul. Jesus came to reveal the God of the Bible. And God has revealed Himself in His book. Any deviation from that insight from Him is a made-up god. Jesus came to reveal the God of the Bible.