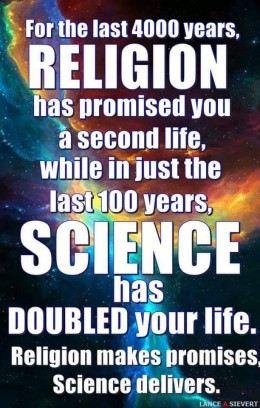 Just look what science and logic have accomplished in the last 100 years alone! We can now walk on the moon! We can communicate world wide in an instant. We have cars, trains, planes, and superhighways! We have the best medical services in the world (albeit not the cheapest). We live longer, we have less sickness, we stay in contact with our families and loved ones more often, we have air conditioned homes with running water and indoor plumbing! The list of science and practical applications of the sciences have lengthened our life spans and made us much more comfortable than ever!
Seriously, a religionist would have us back in the dark ages with the bubonic plague, lepers being shunned, women unable to vote and being treated like slaves, witch hunting, pedophilia, incest and murdering people who worship a "different" god.
Unfortunately, we still experience the worst of religious beliefs every day - the notion that "prayer" will heal, feed the hungry, save homes from forest fires, or even help you get out of bed. This is a mindset that encourages people to believe in the absurd notion that a "god" will come and save their sinning heart (after they die, of course).
Religious terrorism is the worst nightmare one can have. Christians killing Muslims, Muslims killing Christians, and "believers" killing atheists and agnostics.
Abolishing religion might, I say might, stop some of that nonsense. Or we could just put all the religious people in one place and build a wall around them and let them ask their gods for providence. Let the rest of the world continue to improve our lives and our planet.