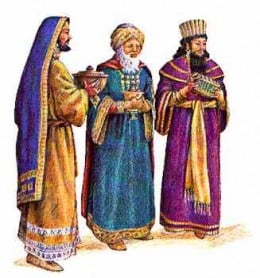 In reality when one looks deeply into this, the answer is somewhat complex. The word magoi often has the meaning of "magician", in both Old and New Testaments (see Acts 8:9; 13:6, 8 etc.). We find the same meaning in the second chapter of Matthew, though this is not the common interpretation.
It should be noted that no Father of the Church holds the Magi to have been kings. The Church, indeed, in her liturgy, applies to the Magi the words: "The kings of Tharsis and the islands shall offer presents; the kings of the Arabians and of Saba shall bring him gifts: and all the kings of the earth shall adore Him. Neither were they magicians: the good meaning of magoi, though found nowhere else in the Bible, is demanded by the context of the second chapter of St. Matthew. These Magians can have been none other than members of the priestly caste already referred to. The religion of the Magi was fundamentally that of Zoroaster and forbade sorcery; their astrology skill in interpreting dreams were occasions of their finding Christ. (See Theological Aspects of the Avesta).

The Gospel narrative omits to mention the number of the Magi, and there is no certain tradition in this matter. Some Fathers speak of three Magi; they are very likely influenced by the number of gifts. In the Orient, tradition favours twelve. Early Christian Art is no consistent witness:

*a painting in the cemetery of Sts. Peter and Marcellinus shows two;

*one in the Lateran Museum, three;

*one in the cemetery of Domitilla,

*four on vase in the Kircher Museum,

*eight (Marucchi, "Eléments d'archéologie chrétienne", Paris, 1899, I 197).

The names of the Magi are as uncertain as is their number. Among the Latins, from the seventh century, we find slight variants of the names, Gaspar, Melchior, and Balthasar; the Martyrology mentions St. Gaspar, on the first, St. Melchior, on the sixth, and St. Balthasar, on the eleventh of January (Acta SS., I, 8, 323, 664). The Syrians have Larvandad, Hormisdas, Gushnasaph, etc.; the Armenians, Kagba, Badadilma, etc. (Cf. ActaSanctorum, May, I, 1780).